..
-.-. --.- -.-. --.-
I hate to bore you people but I had good news today…
I just got my General Class ham ticket renewed in the mail today. I've had it since the 1970s but it expired a year or two ago. The Amateur Radio League got it renewed for me.
I still have all the stuff but have not hooked it up in the 25 years we moved to Burleson. I did put up our three section Ron 25 tower with 10 foot pole but didn't install the 8 wire rotor. It only has a TV antenna on it. I've got a Kenwood TS-520, Heath kit 2000kw booster, Heath kit lambraic keyer & counter, half a dozen Yagi and 1 multi band vertical plus a dozen mobile antennas.
Doubt if I will get it hooked back up but glad I still have the ticket.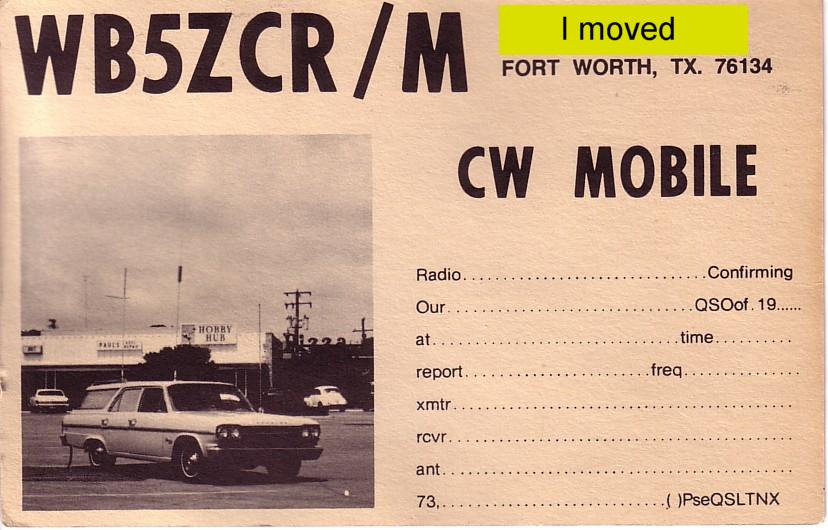 The '66 Rambler I-6 Stick shift has a 13 foot off the ground centerload 60 meter and a Tri-band antenna on the rear for 10, 11 and 15 meters. Worked all States twice with 1186 QSL cards returned on CW while driving to and from work in Arlington. Amateurs along my route knew I was doing CW as I got close to them with my Kenwood TS-520 putting out 80 Watts. I was managing the Hobby Hub in Arlington before I-20 ran south of it.
73s to all… WB5ZCR.. Don S..